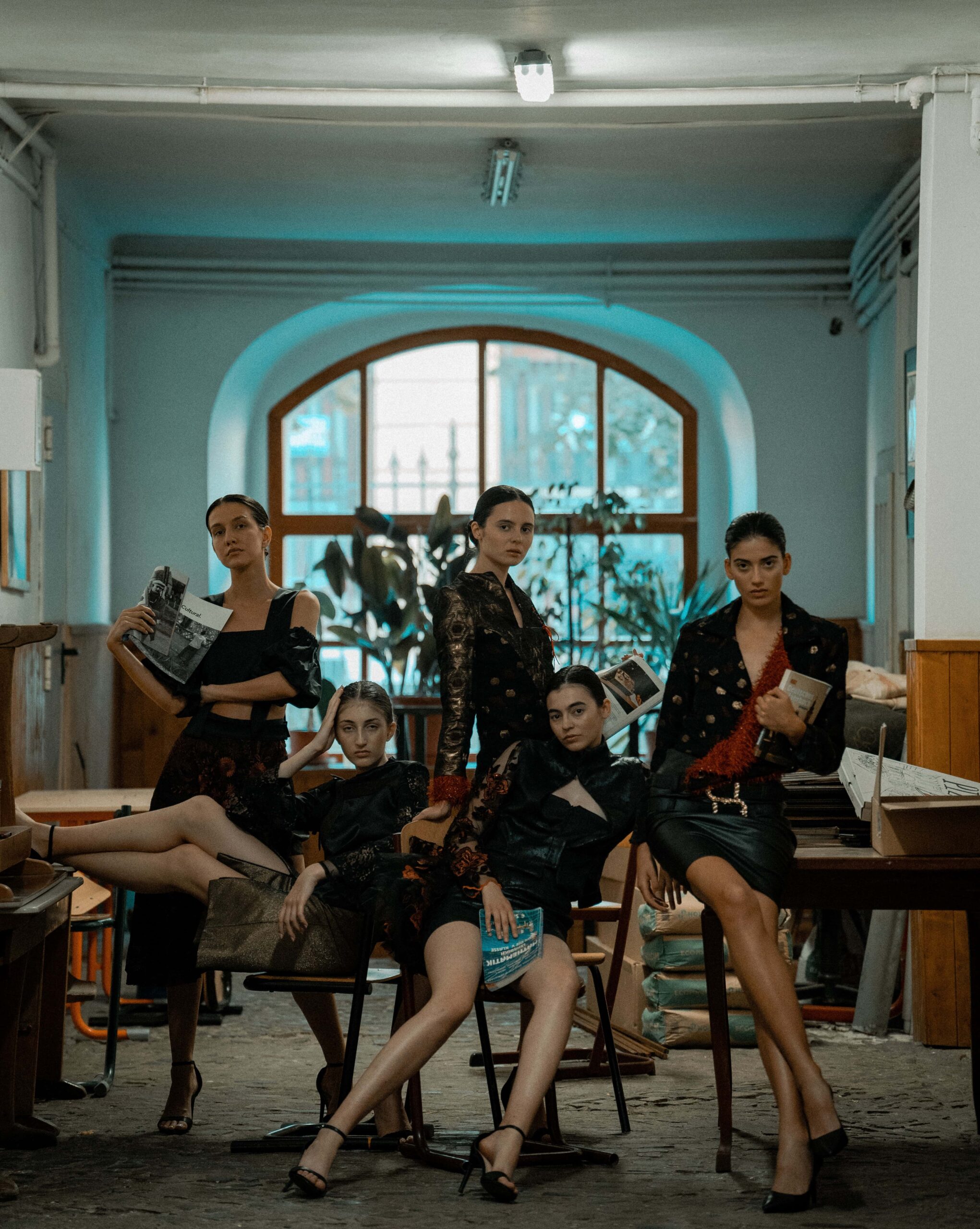 Georgia Chioni hails from Thessaloniki and spent her formative years in Kavala, a northern Greek city. Her extensive travels, driven by her academic pursuits, professional endeavors, and sporting interests, have led her to reside in various European nations. Georgia is celebrated as both an accomplished fashion designer and a prolific director/filmmaker. Her body of work, encompassing both short and feature-length films, has garnered widespread international acclaim and numerous awards at prestigious International Film Festivals. In recent times, she has devoted her focus to crafting fashion films that complement her innovative clothing collections.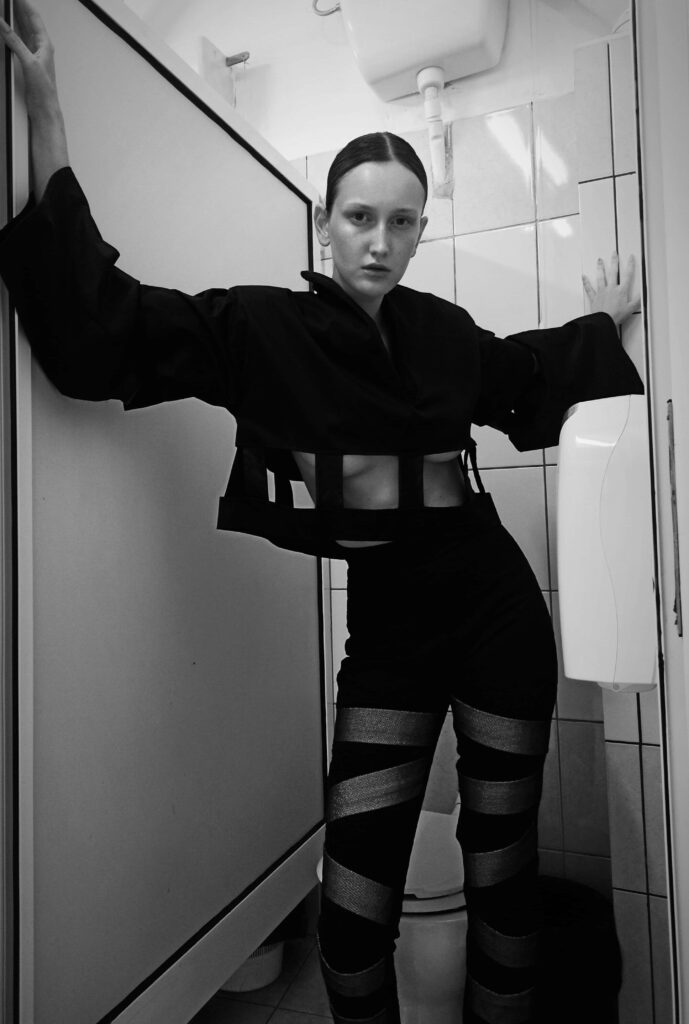 Can you tell us about your early life growing up in Kavala, Greece, and how your background influenced your career in fashion and filmmaking?
I started getting acquainted with the world of filmmaking and fashion since my early childhood. My great grandmother, who had come to Kavala from Midia, a small fishermen's town at the Black Sea, was one of the most known dressmakers and lace knitters there. Knitting laces on the dresses and on the underwear that women used to wear, was at that time a sign of aristocracy. My grandmother was a dressmaker as well. She used to make dresses with patterns and moulage techniques on the body. Watching them work was a unique experience. Without actually knowing it at that time, I grew up in a domestic model of circular economy and upcycling fashion, where nothing was going wasted: old velvet curtains would become jackets, fabric rest overs would become dolls and toys for the children. My self, I was taking fabric clothes, and experimenting with outfits on the dolls.  With regards to filmmaking, since the age of eighty-nine years old,  I started writing small stories and small theatrical plays. We had a girls' theatrical group, all friends, and we were sometimes performing in the neighborhood. I was the director and the costume designer as well. Pity we had neither cameras nor cell phones at that time. I had only one old photographic camera.  
You've mentioned that you've lived in various European countries. How have these experiences shaped your
creative journey as a fashion designer and filmmaker?
It has been a journey full of experiences and stimuli, "translated" into ideas and inspirations. There has been so much beauty in all the places I have lived, Italy, Germany, Portugal, France, Belgium. I just needed to observe and note down all information: people, nature, places, history, civilization. There is inspiration in everything, you just need to let your senses go. So, a lot of my thematic references have been inspired by my journeys. Also, as I am a lover of history and tradition, one of the first things I look for are traditional costumes. However, I have also used thematic inspirations from places I have not lived, like f.e. tales from Ireland and stories from Japan (our latest movie Kaidan).

Your work in both fashion and filmmaking has received international recognition and awards. Could you share some of your proudest achievements in these fields?
I am particularly grateful for having done work that has been recognized at international level. When one starts from scratch with zero budget, it's really a difficult task to achieve something decent, as there are so many obstacles to overcome. As far as filmmaking is concerned, I would mention f.e. the Best Cinematography & Filmmaking Award in 2019 for our film The Riddle at Barcelona Planet Film Festival, The Pigeon d' Or Gold Award Winner for 2022 at Luis Bunuel Memorial Awards with our short documentary "S for Sustainability, F for Fashion" and the Best Documentary Award in 2021 at South Indian Art & Culture Film Awards for our film "Fighting for Freedom – The Greek Revolution in 1821 and the Island of Thasos".
With regards to fashion, in 2020 I was the winner of the sustainable fashion design competition that was organized by Manteco Spa and Athens Fashion Club, with my first collection "Lu.Bu – The Light of Winter", made exclusively out of recycled wool that was sponsored by Manteco. With this collection I competed at our official Athens Fashion Week in 2021 and was awarded the Best New Designers Award. In 2022, the collection "Blazed", designed for SKiN iT and presented at Budapest Fashion Week, was awarded the Bronze Award at the category "Runway Collection – Handmade Apparel" at the International Design Awards. Currently, two of the garments I have designed for the latest collection "Assanina", are finalists at Zagreb Design Week in the category of "Fashion Design and Textile" and will be exhibited to the public during the last week of September. For the past three years I make fashion films as a means to show also our collections.
They have also received international recognition as best commercials.

If you had to pinpoint a moment in your career,
which one would it be?
I would say in 2018, when I received the Award of the Academy of Athens for my work.

What does sustainability mean to you in the fashion industry, and how do you incorporate it into your work?
Sustainability is a way of life. It's something that people need to embrace, maybe be taught at school at the younger generation. We need to develop sustainable-oriented consciousness. SKiN iT, the brand for which I design the collections, is a slow and ethical brand. We try to be as sustainable as possible, trying to use as environment friendly materials as possible. However, this is not always possible, as it is not always easy to find suppliers that will provide you with the fabrics you need at the time you need them.
Could you share some specific sustainable materials or techniques you use in your fashion creations and how they contribute to your overall design aesthetic?
As said, we try to incorporate as many sustainable fabrics as possible. We have used, among others, recycled wool, organic cotton, fabric out of seashell, cork, vegan leather. Fe. as far as the recycled wool is concerned, the manufacturer states that when the wool is not longer needed, or the garment, you can send it back to the company to have it recycled again. In this way, yarns might have a very long-lasting life circle. That's what's slow fashion is about. In addition, we are preparing a project with recycling and we participate at events in order to talk and disseminate information about circular fashion, recycling and upcycling.

You are currently the Head Designer of SKIN iT, a high-end fashion brand known for its subversive designs. How do you approach merging the boundaries of high fashion and art in your work for SKIN iT?
Fashion, for me, is self-expression. Art is self-expression, as well. They are so much linked together, they don't follow a fixed style, they are one with our society and all its developments. We want our collections to have subversive, at times provocative and controversial, wearable designs that are presented in a form of performance. Every photo, every video, every short film tells a story. Personally, being also a screenwriter, I am inspired by my screenplays and movies. I look at my characters and bring them to life through my collections and thematic concepts. High end fashion is an ultimate form of art, with all the craftmanship in the garments. Our collections are part of our souls. Together, they are the ultimate creativity.
In your view, what role can the fashion and film industries play in promoting sustainability and influencing positive change on a broader scale?
They can play a crucial role. Raising awareness could be the first step. People need to know and be aware of the state of play, so fashion and filmmaking could combine drastically forces to work towards positive impact. In 2021 we made a short documentary on sustainability and fashion. If f.e. world-known fashion houses could team up with well-known personalities and make short promo videos, this, I think, would help a lot. It could be also collection promo, but through the participation of personalities well known to the public.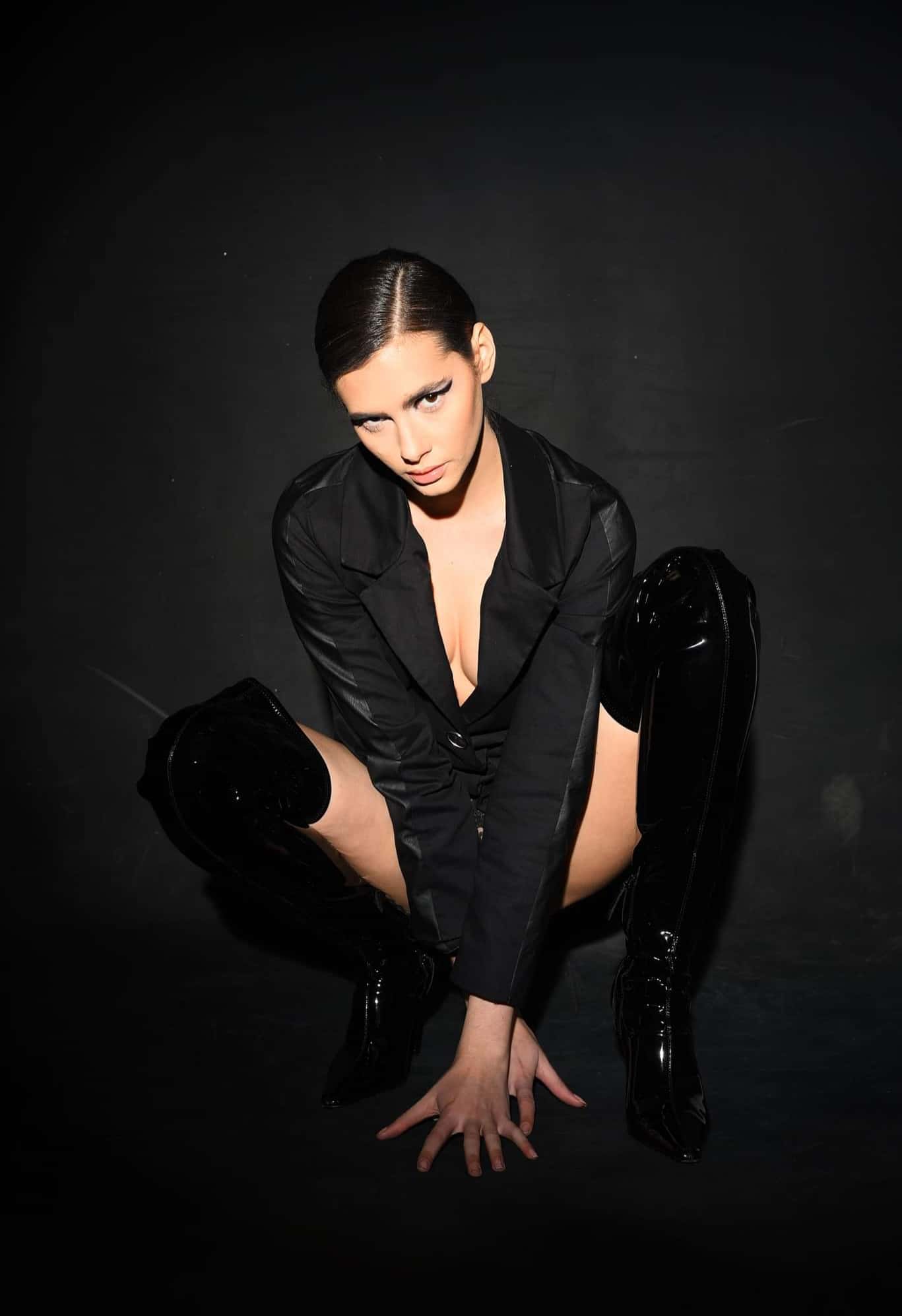 In today's digital age, social media has become a powerful platform for fashion. How do you leverage social networks to showcase your designs and connect with your audience?
The world of fashion has undergone tremendous changes in the digital age. Social media constitute a tool and a means to showcase work for all fashion designers, me being no exception. We do a lot of photo shooting and filming as well, with a lot of backstage feedback. We try to be consistent and have also our audience engaged.
What advice do you have for individuals who aspire to make a meaningful impact in both sustainable fashion and filmmaking?
Fashion is a magical world. Filmmaking as well. Both of them, combined, are such a source of inspiration, such a challenge. However, it's not easy. One needs to have resources and people that can help and rely on, so as to make sure that the result is the one aimed at. We need to stay focused, devoted to our dreams and persistent.
What is your career aspiration? Do you have any goals planned?
I start with daily, small steps. I want to get better and improve myself, and every day I want to make very small steps towards bigger goals. I want to evolve and improve myself in what I do. A short-term goal would be to present a fashion collection at the Paris Haute Couture Fashion Week. Then, a further -short term one- would be to have our fashion atelier ready. And make memorable collections.

What do you typically do when you are not working?
I write down my ideas and inspirations. I do sport and little things and make me feel happy.

How would you describe yourself in three words?
Creative, impulsive, persistent

Is there anything else you would like to mention?
What I tell to myself: be grateful. Be thankful.
FOLLOW GEORGIA CHIONI
-Instagram: @georgia_chioni & @skin_it_fashion
-Facebook: /skinitfashiondesign
-Website (eshop, in greek though): /skinitfashion.gr
-Latest award-winning promo fashion film for skin it fashion at:
https://youtu.be/RIqlzPW6s14